\テリー先生の放課後プログラム//
テーマは「水害に強い家をつくろう!」です。✨
今回つけたい力は…
1. 水害に強い家はどんな家か考える/デザインする力
2. 家のモデル🏠を製作し、実証実験をする/デザインを形にする力
3.グループで一つのモデルを完成させる/チームで協力する力
4.どんな工夫をしたかみんなに説明する/プレゼンテーションの力まずは、最近の日本各地の水害の様子の動画を見て、水害への問題意識を持てるようにする。自分ならどんな水害に強い家をつくるか考えてみます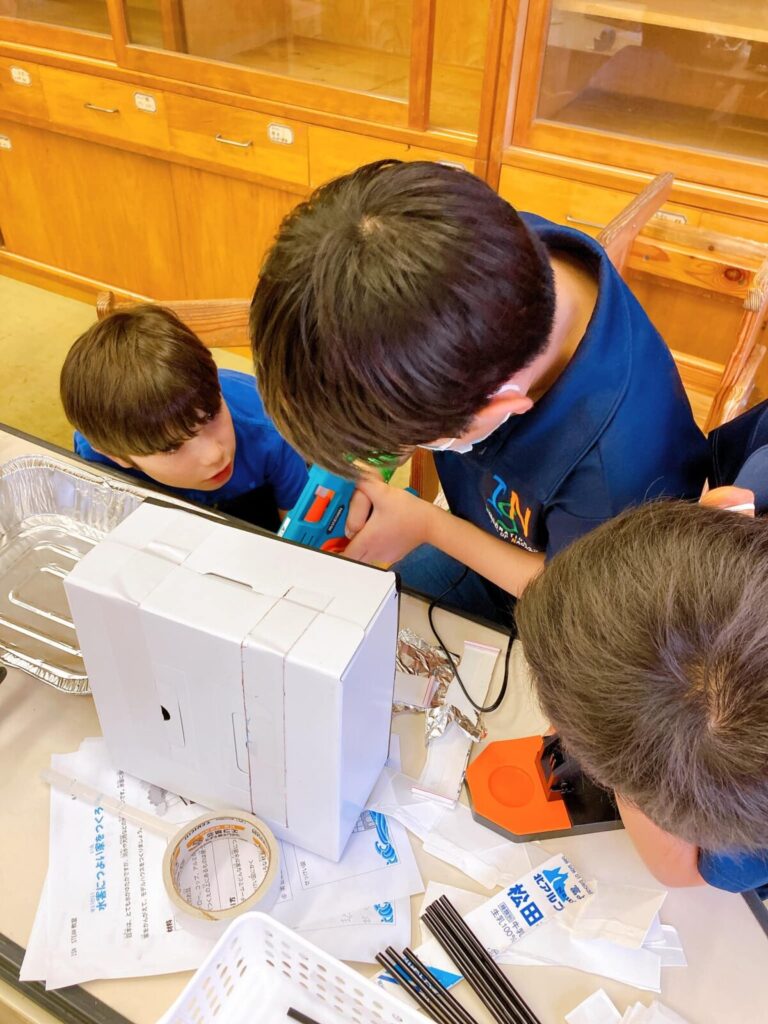 \テリー先生の放課後プログラム//
テーマは「水害に強い家をつくろう!」です。✨
今回つけたい力は…
1. 水害に強い家はどんな家か考える/デザインする力
2. 家のモデル🏠を製作し、実証実験をする/デザインを形にする力
3.グループで一つのモデルを完成させる/チームで協力する力
4.どんな工夫をしたかみんなに説明する/プレゼンテーションの力まずは、最近の日本各地の水害の様子の動画を見て、水害への問題意識を持てるようにする。自分ならどんな水害に強い家をつくるか考えてみます
---

This time, our theme is to make/build a house that can withstand flood. ☔
What can we learn from this project?
1. Designing – How can we make a strong house free from water damage?
2. Trial system – We used a shower and blew air to analyze the pressure from wind and water to provide proof based on concepts.
3. Team work – How do we work in groups and make a better house model through revising plans?
4. Presentation – Explanation/demonstration of what we have done in front of others.
Firstly, the students watch a video of flood disasters in Japan and think about the problems arising from those disasters.🌀
Secondarily, let the students think of how they can design and build a housethat can be protected from flood disasters.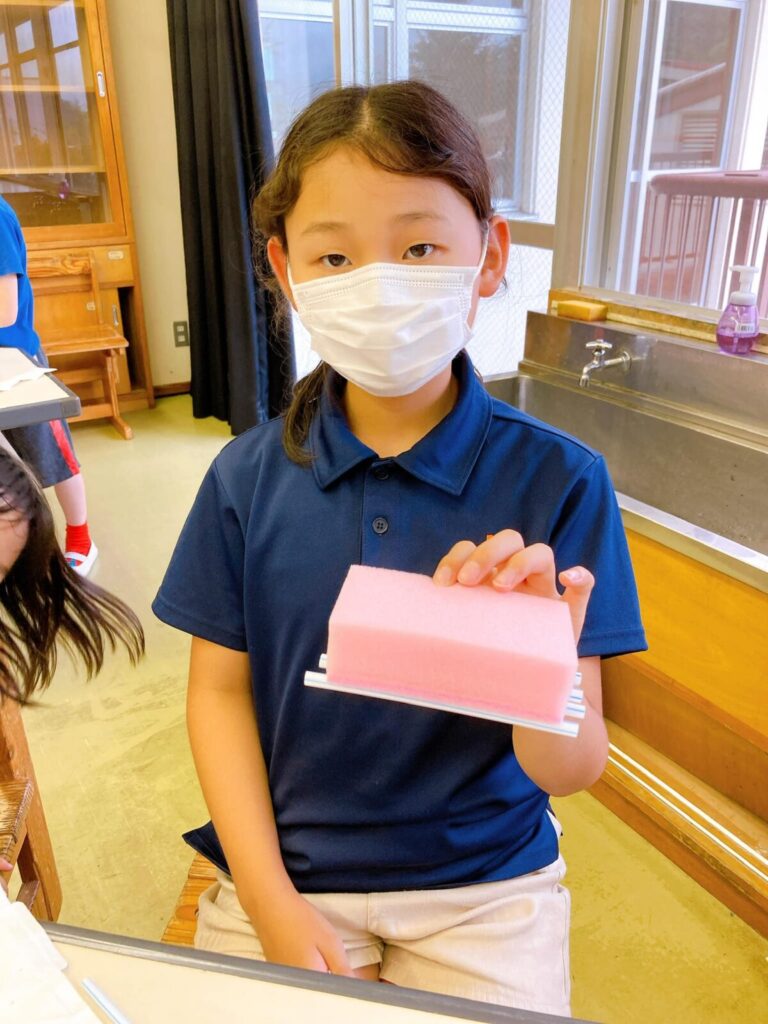 We used some recycle materials for building a house.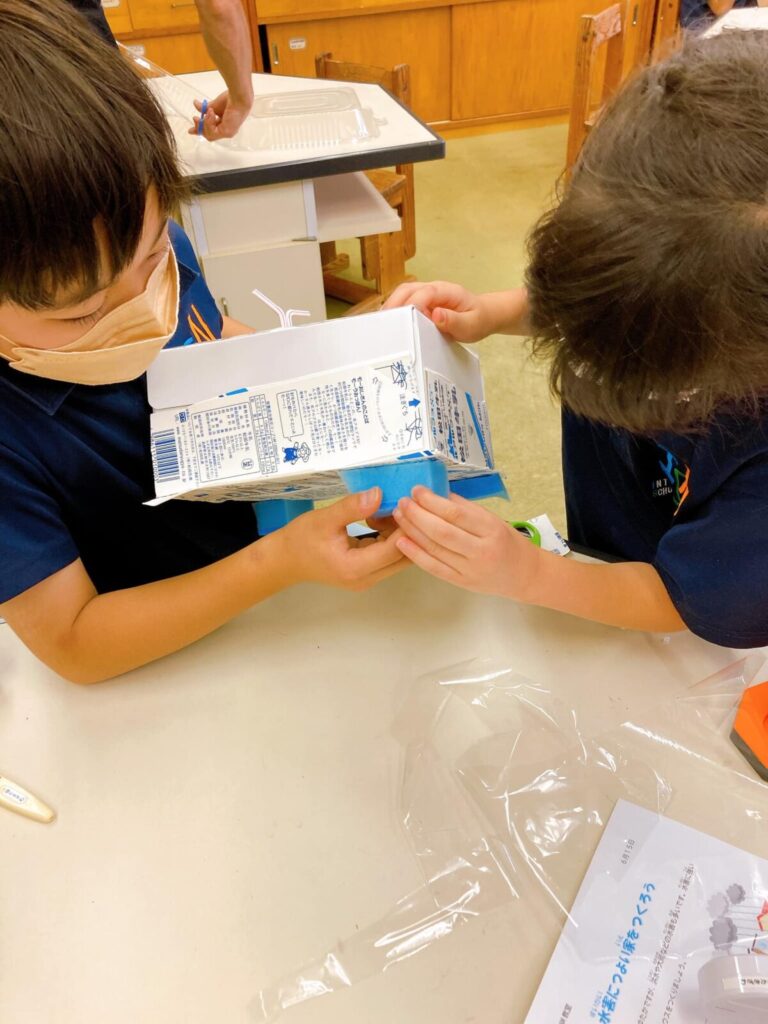 After making our houses, we demonstrated how they reacted to real life situations, by using a fan to show the impact of wind and a water spray to simulate rain.
This demonstration may have made the students think about their environment and the impact floods may have on their surroundings, this topic was a good chance to learn and think about how we can protect ourselves in situations like this, seeing how we have had several big floods over the past couple of years in Nagano.☔🌀
Not only did we learn about building a house, we also learned some valuable lessons along the way.One of the students left the glue gun on and this spread some of the glue.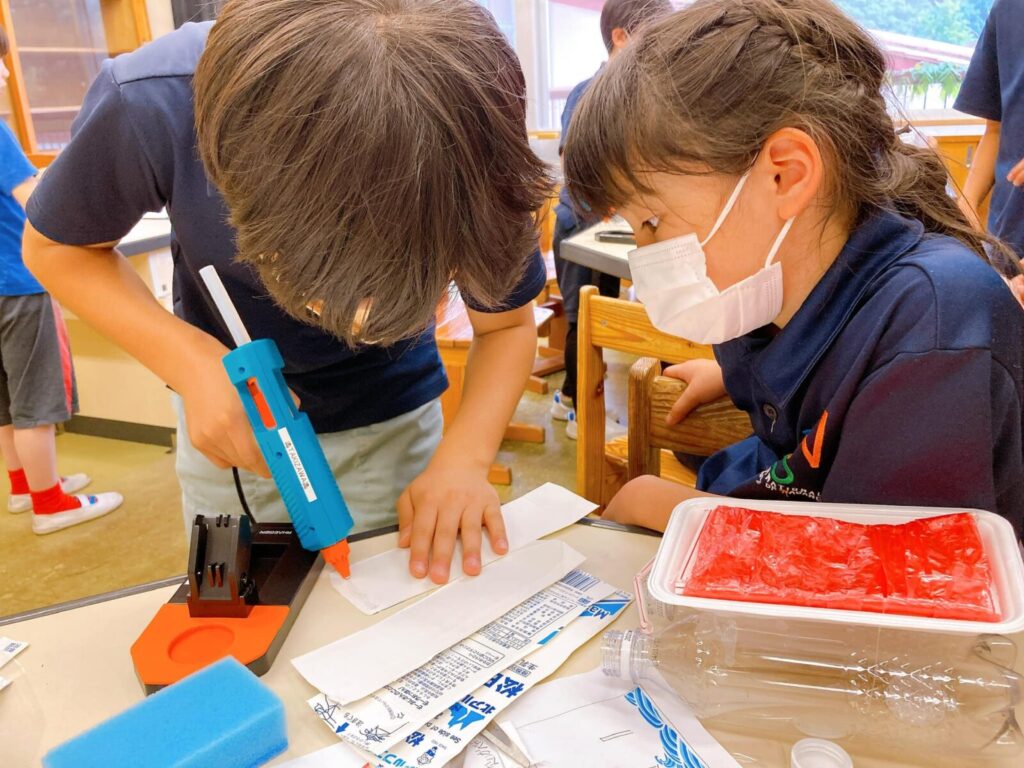 Another student noticed and what followed can only be described as a great group effort. Students discussed how to get rid of the glue with many suggestions and ideas coming from different students.😊👍