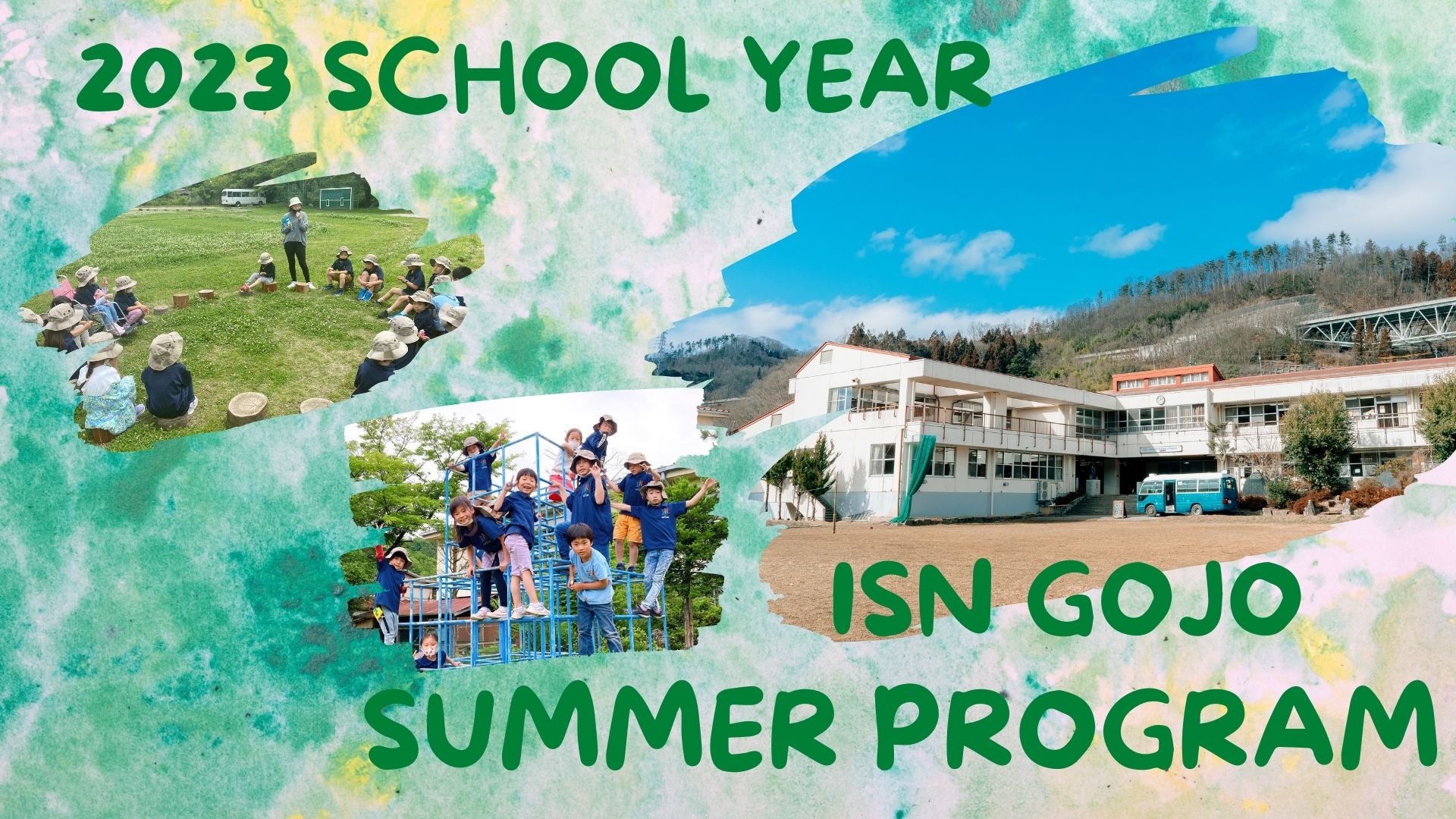 Welcome to the ISN Summer Program!
The Summer Program is a program held every summer for elementary and junior high school students.
We host an all-English program for our students who normally spend their school life in English, as well as for children from outside of ISN who have never been exposed to English.
No English proficiency is required to join ISN's Summer Program. Even if you are not confident in your English ability, we will support you, so that you can communicate in English! Let's make this a summer of experiencing the excitement of accomplishment and making things together!
Activities will vary from exploring the natural environment around the Gojo campus to learning about the SDGs, and much more!
So… why don't you join us for an ISN adventure this summer?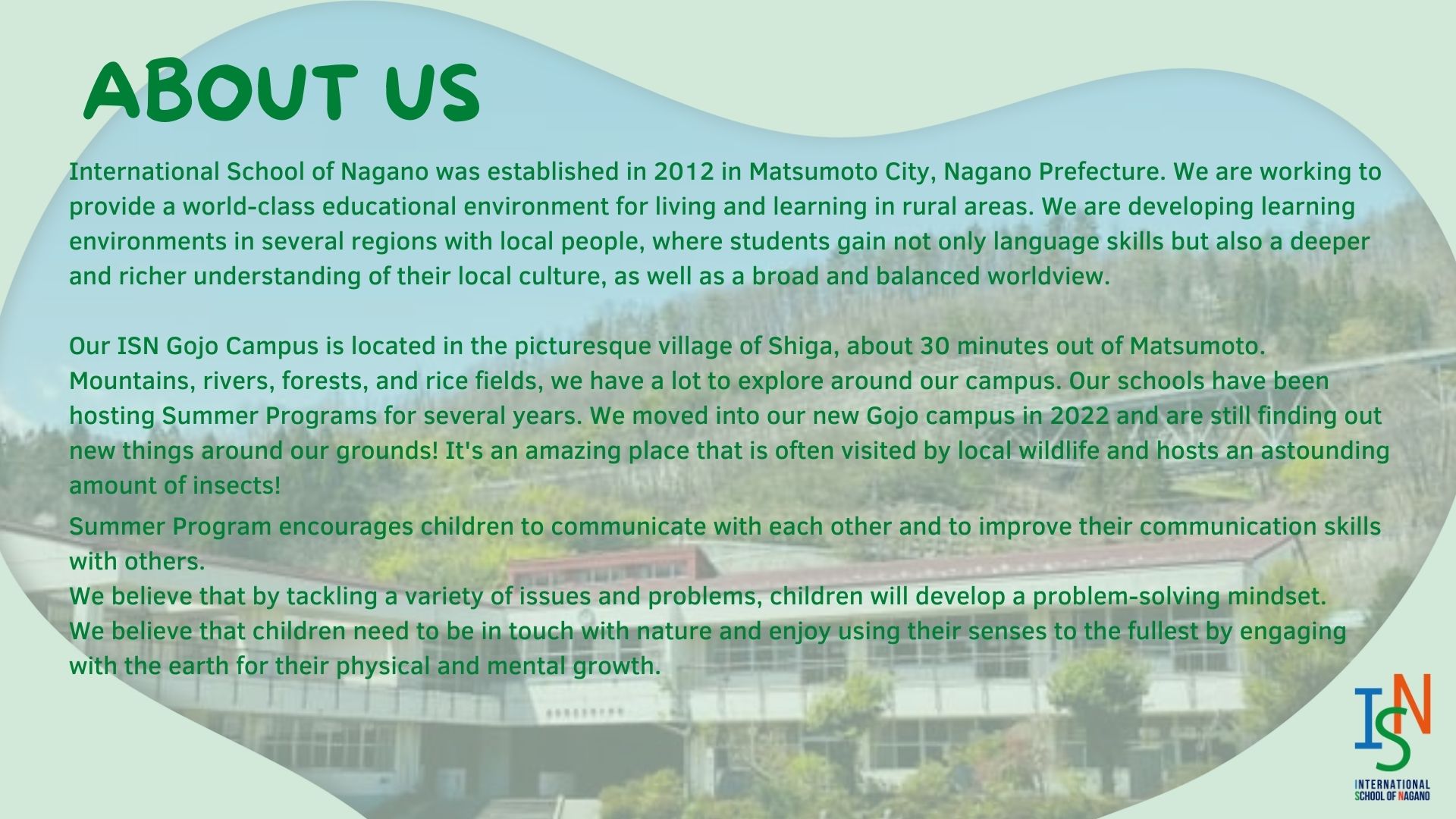 Season Program Overview
Eligible Grades
Elementary grades K through 5 (5 or 6 years old to 11 years old).
English proficiency is not required
Dates
July 24th (Mon) ~ August 4th (Fri)
Time
Campus open 8:45am - 3:30pm,
Activity time 9:00am - 3:00pm (Please pick up your child by 3:30pm)
Place
Gojo Campus
6387-1 Shiga Gojo, Matsumoto City, Nagano Prefecture, 3997401 Japan
Registration period
Wednesday, February 1, 2023 - Friday, July 14, 2023
Morning and evening transportation
Activity time 9:00am - 3:00pm (Please pick up your child by 3:30pm)
Things to bring
・Swimming kit (swimsuit, goggles, towel, rash (optional), hat)
Every Monday, all grades go to the indoor pool (Shiga B&G Ocean Center).
・Lunch (if you don't request our school lunch)
・A change of clothes (in case of sweating or getting dirty during activities)
・Water bottle (water or tea.)
*Gojo Campus will provide water when empty
・Hat with brim
・Lightweight pants that are easy to move in and can be used for hiking/physical activities are recommended.
・Cool towel, etc. (optional)
*Please make sure that the towel is safe for use by children and that they don't need assistance.
*Please make sure to label all belongings.
*Please write your child's name in English letters.
School Lunch
ISN can provide school lunch for an extra fee of 500 yen per meal.
School shuttle bus
500 yen/day
Morning 8:30 Departure from Akashina Station
Evening Evening Departure from Gojo Campus between 15:30 and 15:50 (varies depending on the number of people using the bus, etc.)
Participation fee
8,000 yen/day
Please note that no refunds will be made after payments have been made.
No credits will be offered for missed program days.
Steps from Application to Participation
1. Please fill in all the necessary information using this Google Form.
2. After confirming the application form, the school will contact you with detailed participation details. Your application will be processed upon confirmation of payment of the participation fee.
3.If you have any questions, please contact our office.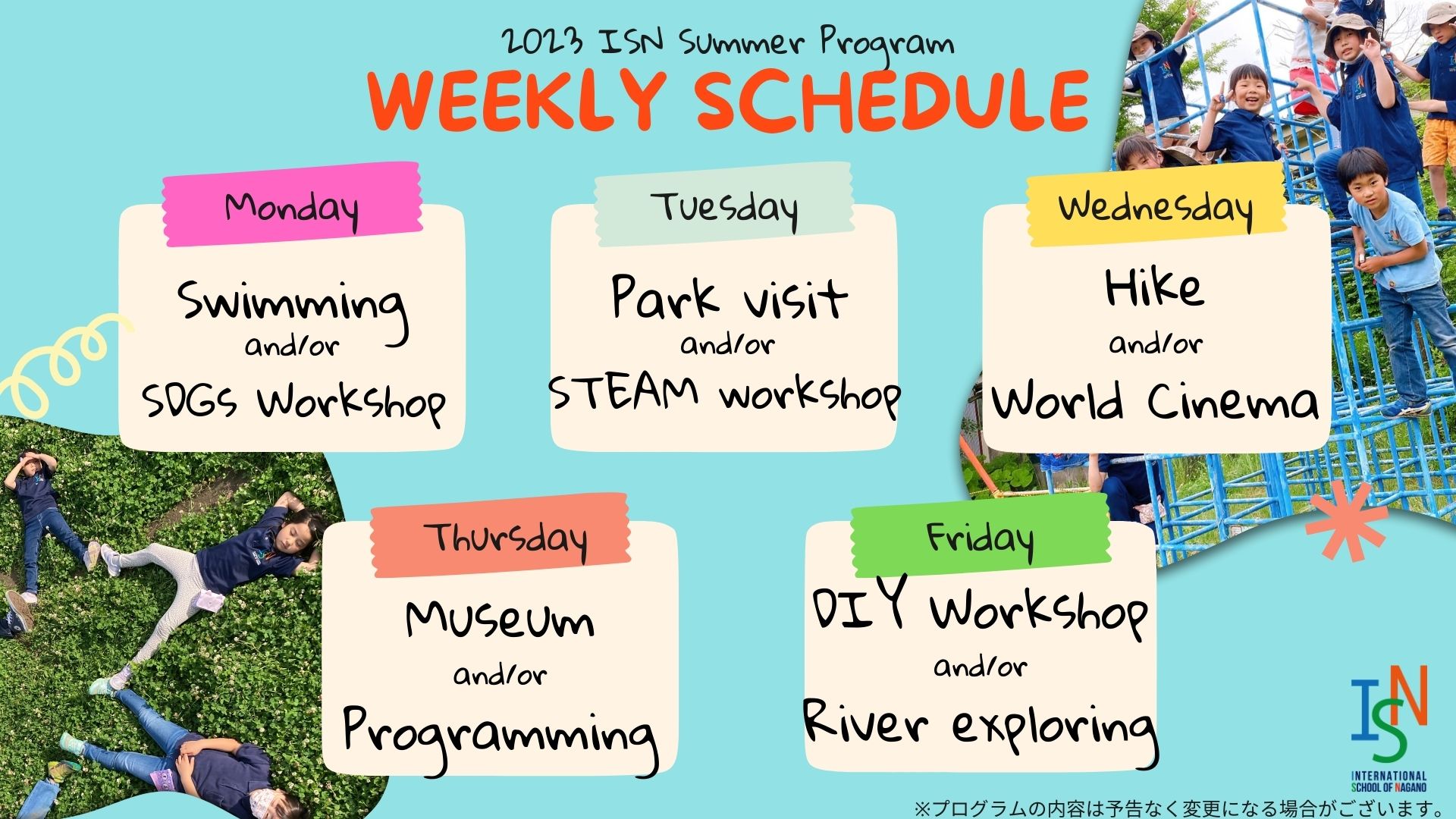 Monday:
Swimming and/or SDG Workshop
Tuesday:
Park visit and/or STEAM Workshop
Wednesday:
Hiking and/or World Cinema
Thursday:
Museum visit and/or Programming
Friday:
DIY Workshop and/or River Exploring
*The program is subject to change without notice.
ISN's Summer Program is an all-day English program.
The program is based on a well-balanced curriculum that includes basic English skills, as well as a full range of physical activities and the use of IT systems.
During cool mornings, students can go on hikes and nature walks to observe insects, plants, and animals. We have also planned bus excursions to parks.
In the afternoon when the temperature is too hot or the weather is too bad, we engage in indoor activities. For example, we have a STEAM class or watch an arthouse/world cinema movie, followed by a discussion.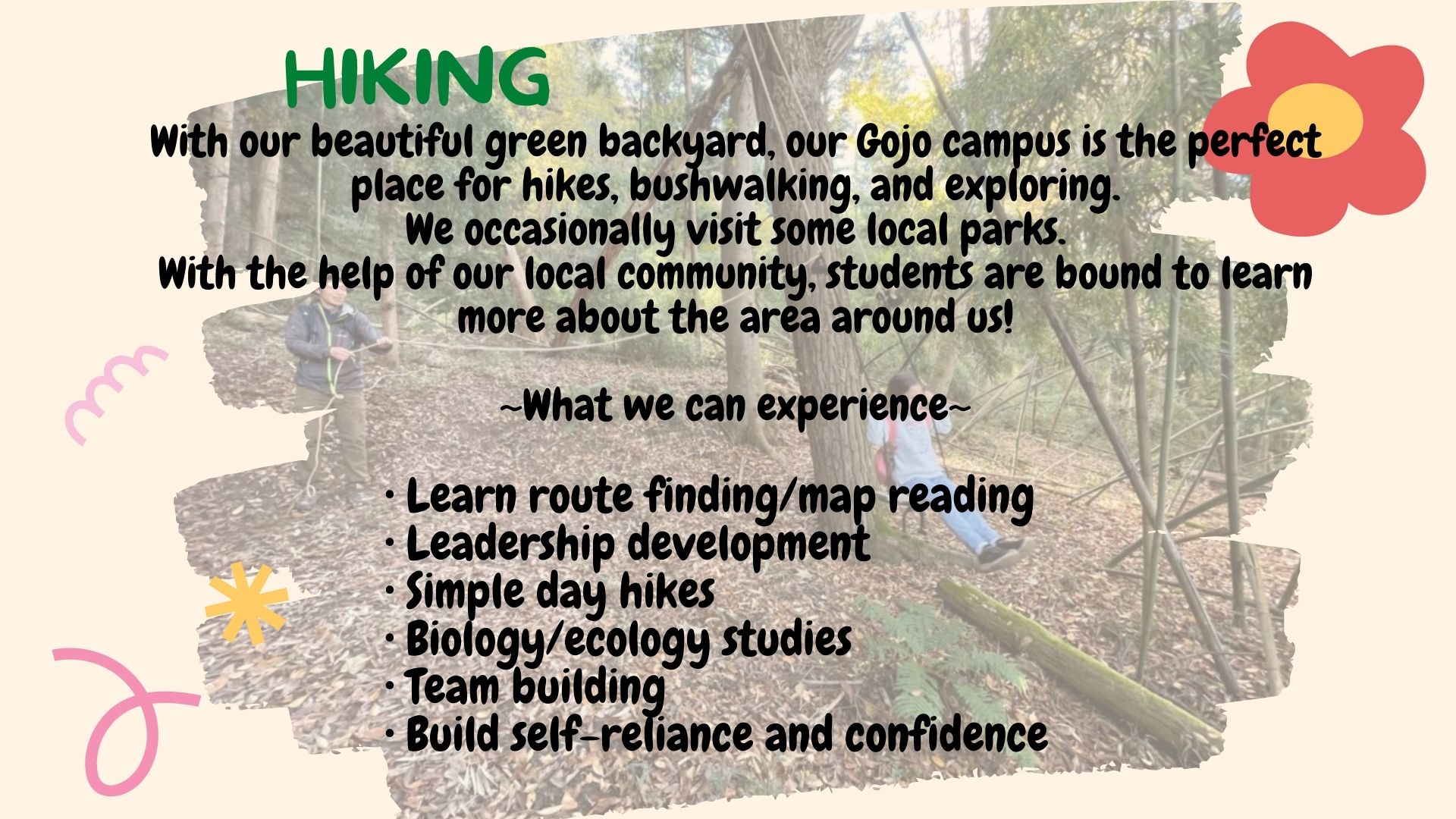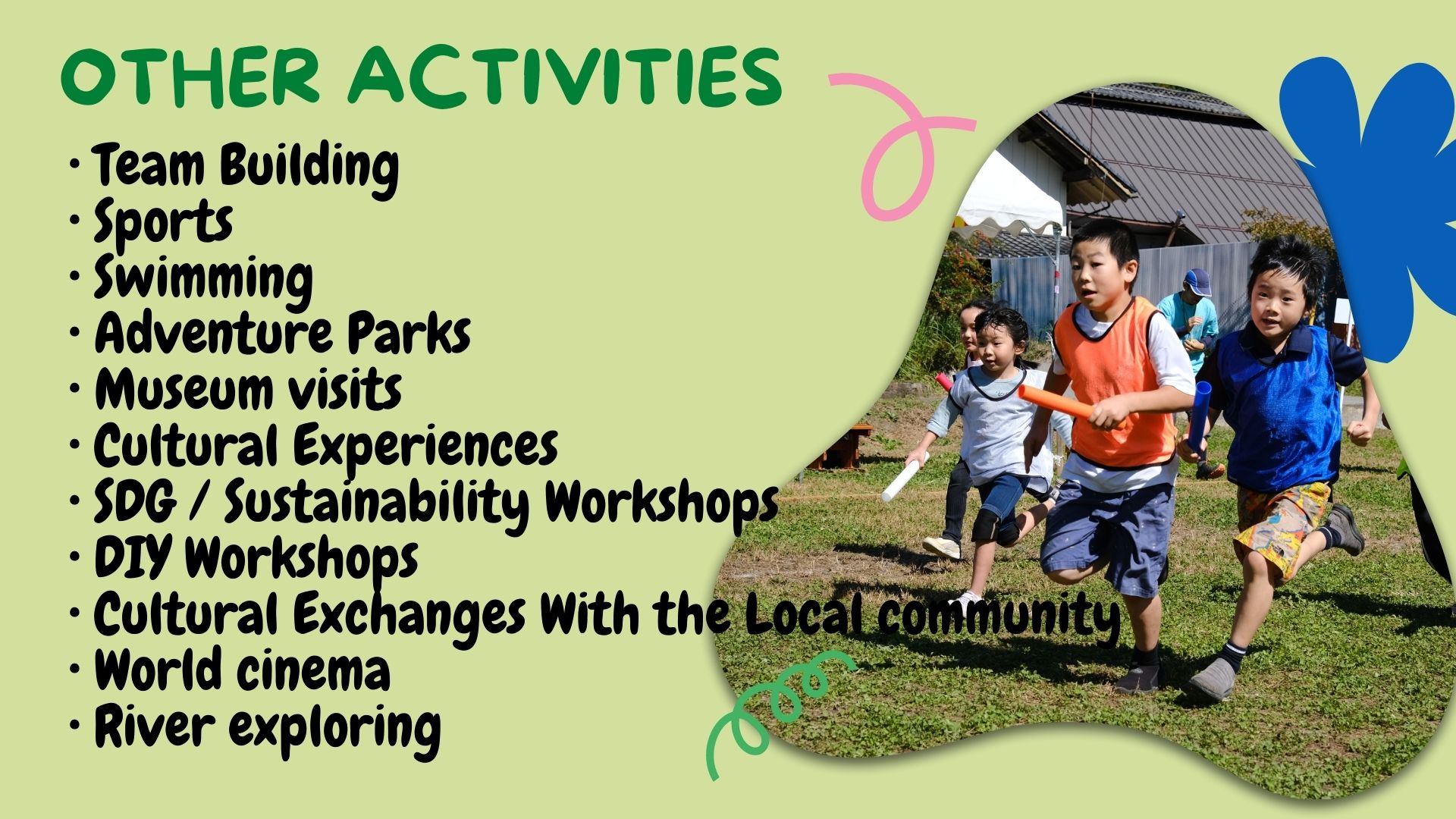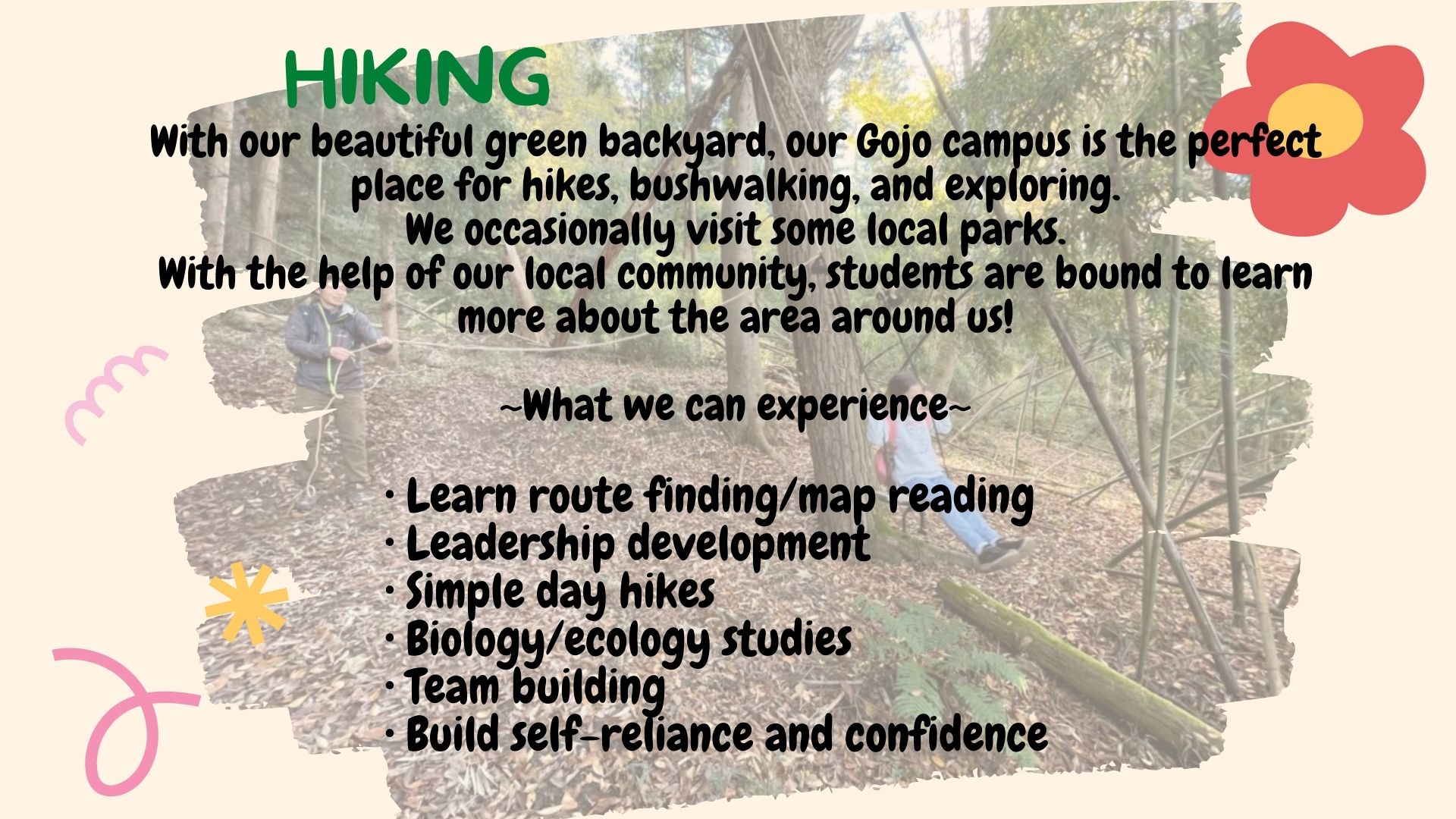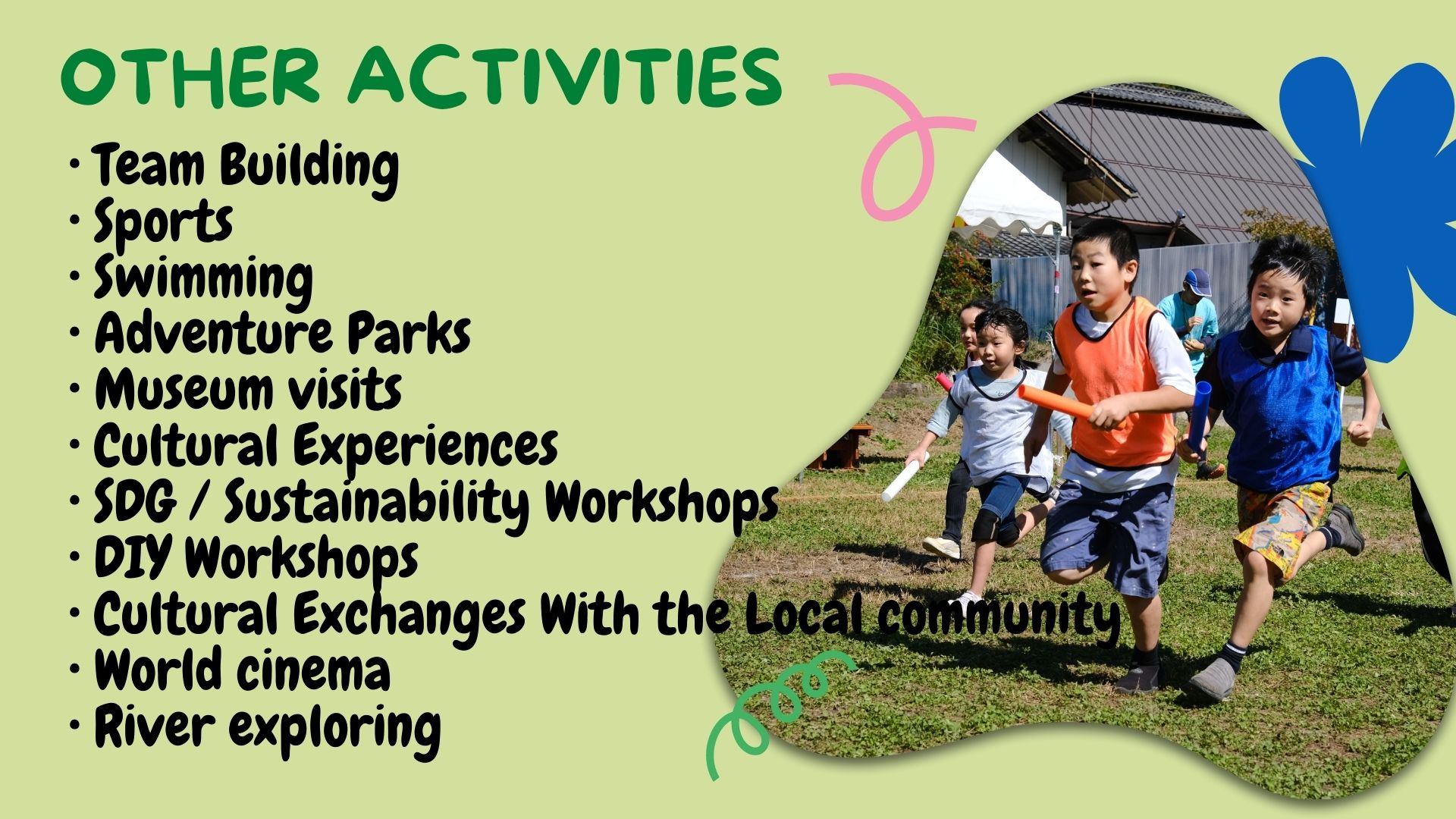 With our beautiful green backyard, our Gojo campus is the perfect place for hikes, bushwalking, and exploring.
We occasionally visit some local parks.
With the help of our local community, students are bound to learn more about the area around us!
• Learn route finding/map reading
• Leadership development
• Simple day hikes
• Biology/ecology studies
• Team building
• Build self-reliance and confidence
• Team Building
• Sports
• Swimming
• Adventure Parks
• Museum visits
• Cultural Experiences
• SDG / Sustainability Workshops
• DIY Workshops
• Cultural Exchanges With the Local community
• World cinema
• River exploring
and so on…