Hello, friends! It was a very hot week, wasn't it? But, Grades 3 and 4 still had a lot of fun! Starting the third Line of Inquiry of the current Unit, "Nature's Gifts are Plentiful", the students started discussing everything nature does for us and how people can use its offerings in the best possible, sustainable ways.
On Wednesday, the students were visited by a local artisan, Ms. Nagaiwa. From our excursion back in Unit 1, the students seemed interested in traditional waraji shoes they were introduced to at that time. Ms. Nagaiwa showed them the traditional technique of making the sandals, but with soft, colorful cloth instead of straw.
At first, students needed to make their own wooden boards to use for sandal-making. This included some measurement and nail-hammering, but the students took it all in stride. What followed was a bit more challenging. The process of folding the string in order to make a sandal stable enough was tricky, but the students tried their best and everyone ended up choosing the cloth they will use and starting on their sandals. We will continue this workshop next week.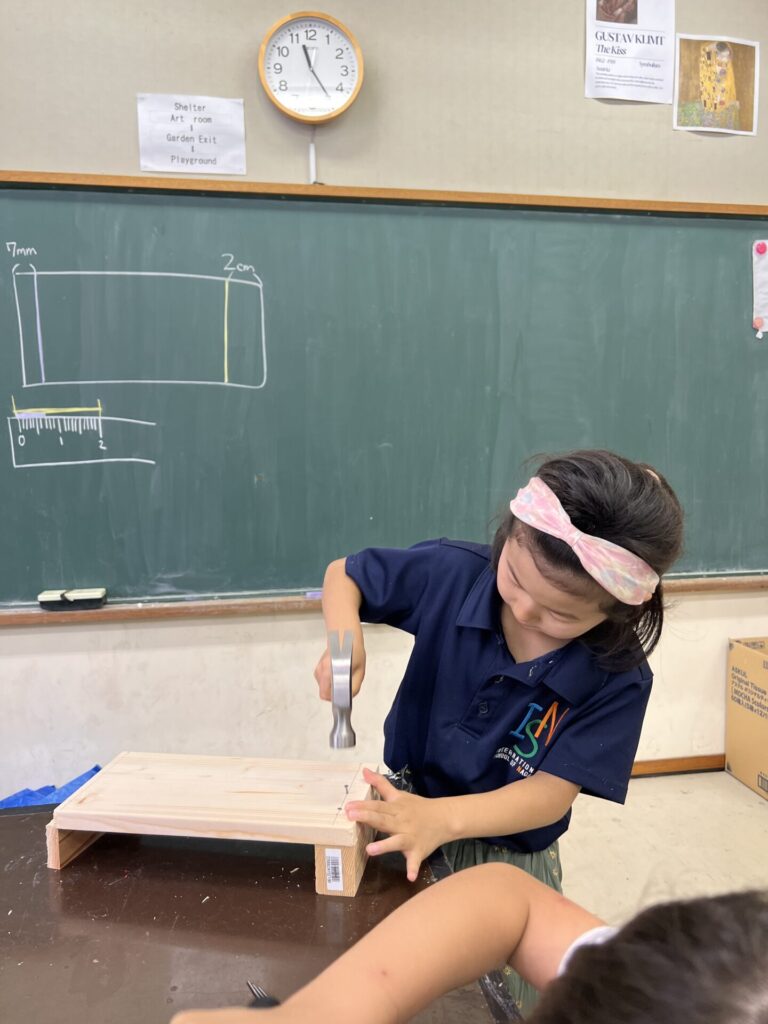 On Thursday, the school was once again visited by ISN preschool students, this time Shimauchi campus' Shooting Star. Grades 3 and 4 were tasked with teaching the students a little bit of what they themselves have learned about insects during the current Unit, and they prepared short presentations, complete with posters and slideshows. The students always seem a little bit nervous when it's time to present their work, but they worked well with the preschool students and took their time and effort to explain everything to them in a simple, easy-to-understand way. Next week, we will be visited by Savanna students.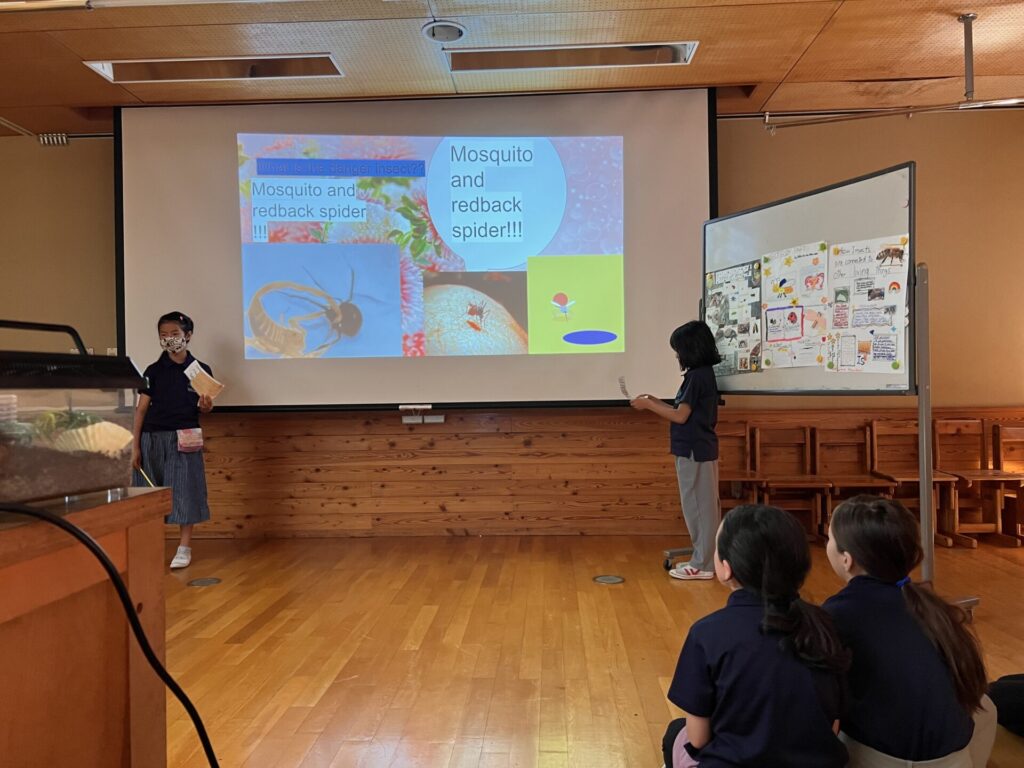 Finally, Friday was the time to go on our long-awaited bus trip that was rescheduled due to last week's rain. Luckily, we were greeted with a beautiful, sunny day. We visited the Daio wasabi farm, where the students learned about the way wasabi grows and how Daio wasabi farm is actually the largest wasabi farm in the world. We had a small tasting of wasabi ice cream, which is made from wasabi leaves. Some students enjoyed it and most have found it too unusual for their taste, but it was definitely funny to talk about what the ice cream reminded them of.
What followed was a visit to Alps Azumino park in Hotaka, where we had our lunch and played at the exciting Marshmallow dome, before continuing to the arts & crafts building for a workshop in which the students decorated and assembled their own wooden castanets. We saw many creative designs emerge from the students and we will use these castanets during our Music and Performance Day performances, enforcing the concepts of reusing things given to us by nature.
We finished the day off with more play. It was a very, very hot day and this has unfortunately taken its toll on some students, but most seemed to be in a good mood as we were riding the bus back to school, filled with memories of fun times with our friends. I'd also like to thank all the parents and families that have joined us and made the trip so much more exciting for the students. Have a great weekend! 🍀