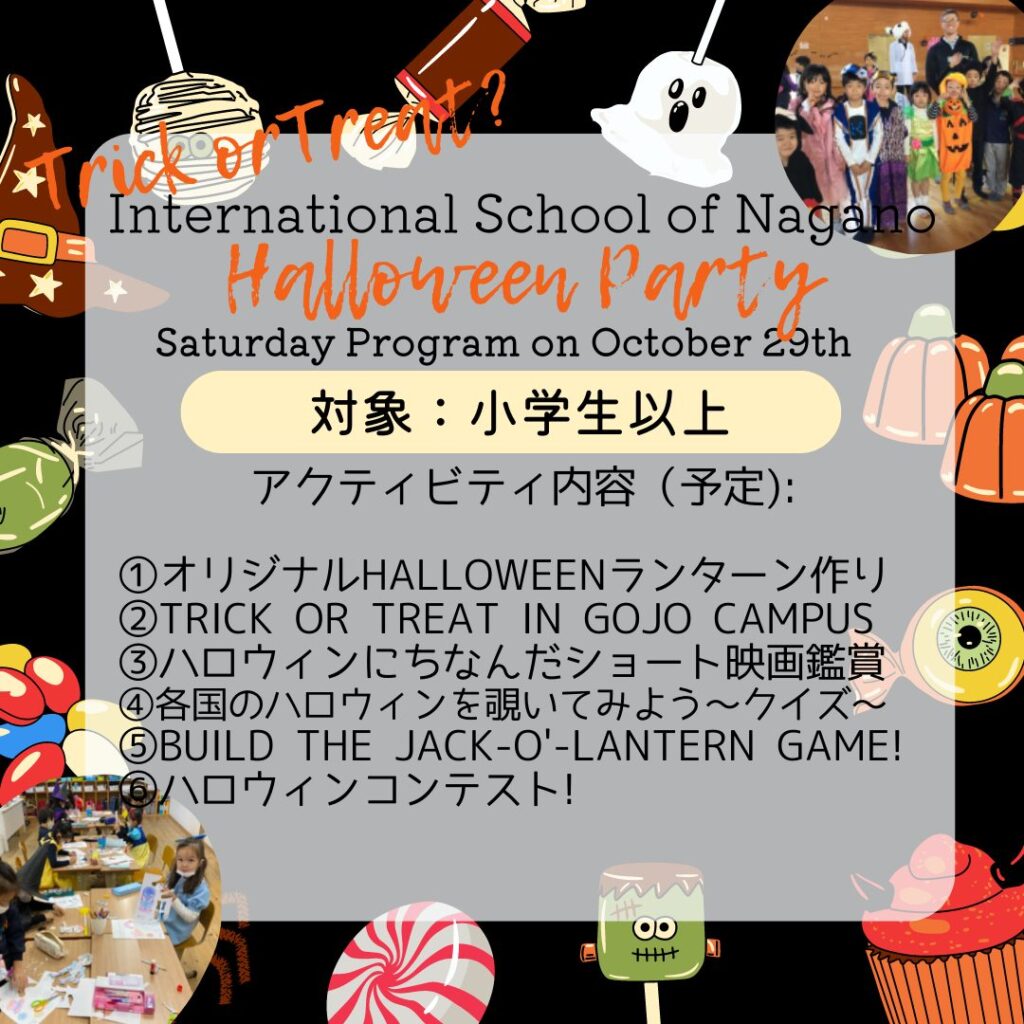 \\ISN Matsumoto Gojo Elementary & Junior High//
(英語の後に日本語が続きます!)
Saturday Program October!
October 29th【Elementary and up, limited to 10-15 groups, Parent & Child Halloween Party!】
Hello everyone!
The morning and evening temperatures at the Gojo campus have cooled considerably!
Thanks to all of you, we had an excellent turnout for the September Saturday Program!
We will not have Saturday Programs in the second half of September.
However, we are pleased to announce our October Saturday Program!
October is the month of…
Trick or Treat! Halloween month!
We have prepared a variety of Halloween activities!
❢Please check the age range for each program before signing up.❢
For: ISN Elementary and Junior High School students
Students from outside of ISN are also welcome! (Elementary & Junior High School age)
Please invite your friends to join us!
Accompaniment: One parent per child.
Fee: ¥6,000 for ISN students, ¥8,000 for non-ISN students.
Siblings will be charged the above rates per child.
Activities (tentative):
(1) Let's make a lantern
(2) Trick or Treat in Gojo Campus/Pumpkin hunting!
(3) Let's take a peek at Halloween in different countries – Quiz!
(4) Build a Jack-o'-lantern!
And of course…
\\Halloween Costume Party! //
Time schedule (tentative):
9:00 – 10:00 Welcoming time ※Please come by 10:00
10:00 – 12:00 Morning activities
12:00 – 13:00 Lunch
13:00 – 15:00 Afternoon activities
15:00 – 16:00 Cleanup & greetings
Click here to register ↓↓↓↓↓↓
https://forms.gle/7qt6HApsRezgzAzL9
What to bring:
◎ Please wear a regular set of clothes
◎ A Halloween costume for the afternoon
※ Adults, of course, feel free to join our costume party!
◎ Apron for craft time or clothes that can get dirty
※Acrylic paints and glue will be used for lantern making
◎ Beverages
◎ Lunch box
◎ Bag to take crafts home
◎ Slippers
※ For those who may forget, slippers are available at our Campus, however, only adult sizes
The school will be open on the day of the Saturday Program, so please feel free to use the restrooms.
In addition, for those with infants or small children, an electronic kettle and microwave oven are available for use. ※Please let us know in advance.
As part of our efforts to prevent corona, we ask that each family try to keep the number of participants to a minimum.
Thank you for your understanding and cooperation.
We plan to upload photos of the Halloween Party on ISN's social media channels and blog. Please let us know if you do not want your child to be photographed.
If you have any further questions, please feel free to contact ISN Gojo Campus Office: Jongerius
——————————-
10月29日【小学部以上対象 限定10-15組 親子Halloween Party!!!】
対象: ISN小学部・中学部
ISN外部の方もご参加頂けます!対象は同じく小・中学部以上のお子様
付き添い: 1組につき、ご両親どちらか1名。
料金: ISN生¥6,000、ISN外部の方¥8,000。
※ご兄弟で参加される場合はお一人につき、上記料金となります。
アクティビティ内容(予定):
①ハロウィンランターン作り
②Trick or Treat in Gojo Campus/The pumpkin hunting!
(スクール内を皆で探検します)
③各国のハロウィンを覗いてみよう~ハロウィン難関クイズ~
④Build the Jack-o'-lantern!
\\もちろんHalloween Costume Partyも!!!//
お申込みはこちらから↓↓↓
https://forms.gle/7qt6HApsRezgzAzL9
持ち物:
◎思いっきりの仮装
◎クラフト時間用エプロンまたは、汚れても良い服 ※ランターン作りでは、糊や絵の具を使うことがあります。
◎飲み物
◎お弁当
◎クラフト持ち帰り用の袋
◎スリッパ ※忘れた方は五常キャンパスのスリッパをご利用いただけますが大人用のみとなります。
サタデープログラム当日はスクールを開放しますので、お手洗いなどご自由にご利用ください。
また、乳児や小さいお子様と同伴される方には、電子ケトルや電子レンジをご利用頂けます。
事前にお申し出ください。
コロナ対策の一環として、各ご家庭なるべく最少人数でのご参加をお願いしております。
皆様のご理解とご協力をお願い致します。
Halloween Partyの様子をISNのSNSやBLOG等でアップロードする予定です。写真撮影NGの場合は、事前にお知らせください。
その他ご不明点はお気軽に、ISN五常キャンパスオフィス:ヨンゲーリュスまでお問合せください。