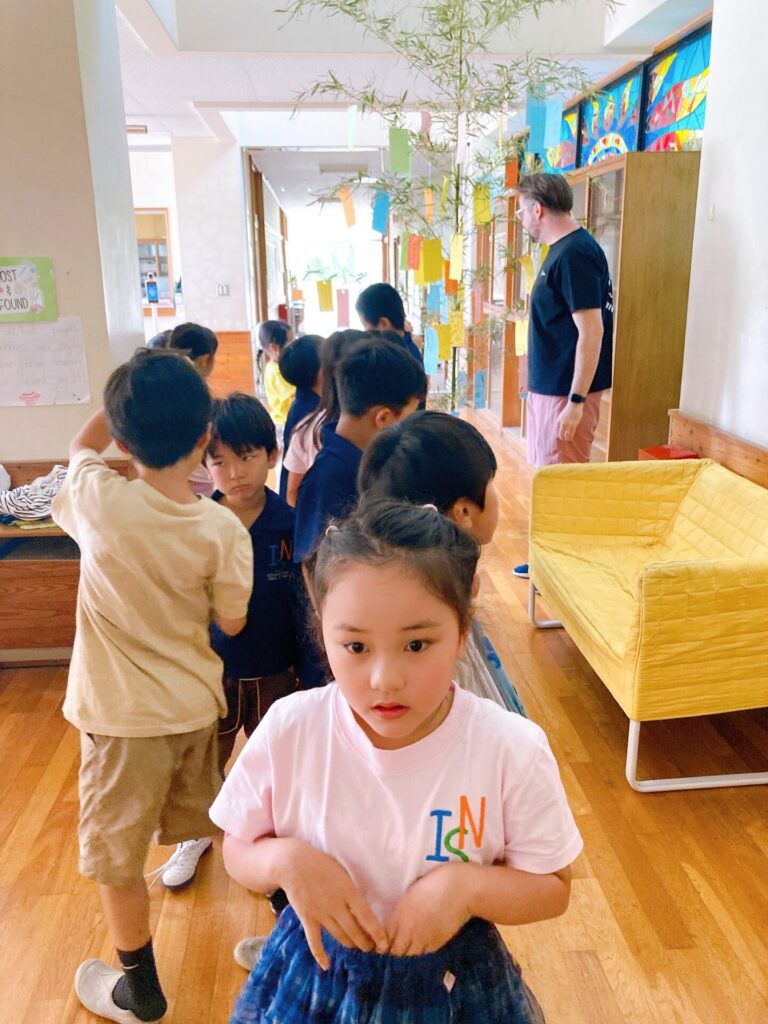 Students helping each other make their wishes!
Hi everyone!
This week has been great! We would like to tell you what we've done this week!🌈
First of all, what is happening on July 7th?🌟
As you may know, on July 7 we celebrate a traditional Japanese festival: Tanabata! In English, we usually say "star festival".
Grade 2 students decorated their Tanzakus(wishing cards) with their wishes on Tanzaku strips and decorated the bamboo branch we had set up at the entrance of the school!😊🎵 Students wrote down wishes, where they wanted to go, and what they wanted to be, for their family's health and their own. It was lovely to see and find out what they are excited about and what their goals are.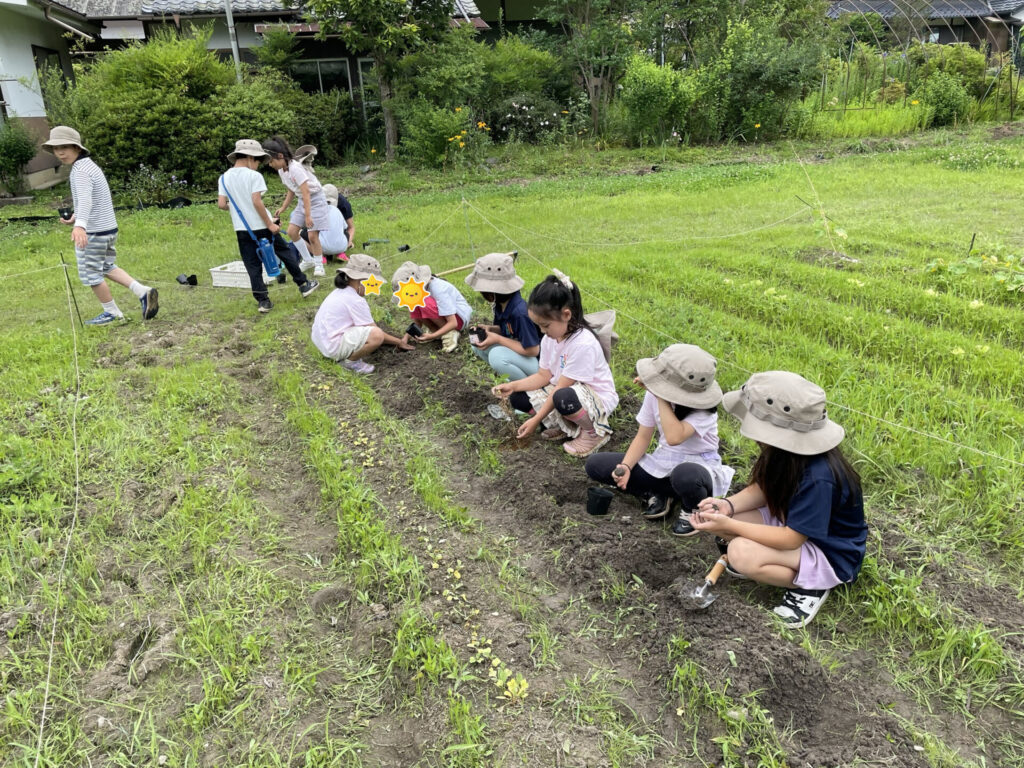 Students working on their own piece of land on our school farm.
We also spent time on the farm this week! We replanted some of our soybean plants and carrots, so they can further develop in our fields. Students helped weed the field before we planted everything… though for some it was a little difficult to stay focused as the bugs hopping around us made them excited to catch a couple and find out what else they could find in the high grass… Oops 😉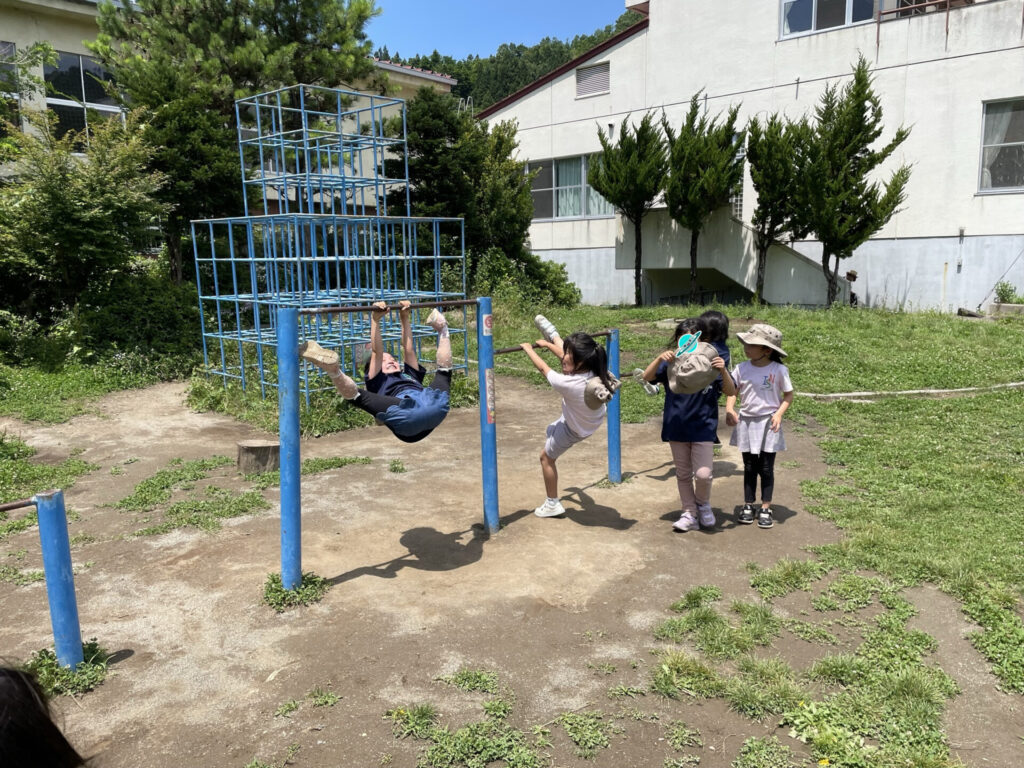 Students trying out awesome new moves on the monkey bars!
Since we are currently going to the swimming pool instead of regular PE classes, some of the students have been asking for a little more time to move outside. One of our students suggested she could maybe host a small PE monkey bar workshop… and so we did! She showed other students how to use the monkey bars and then invited others to try. It was amazing to see that so many joined and that this activity was led by one of our students! Great job!!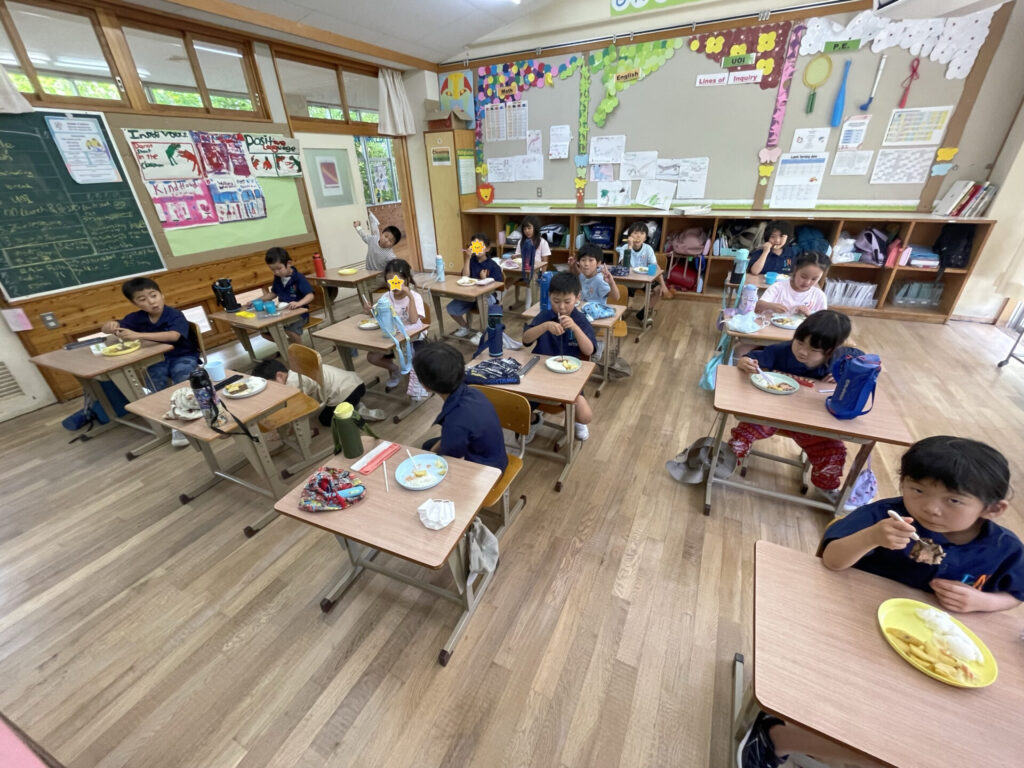 On Thursday we could finally enjoy the meal that our Dragon House (from 2022) put together. Everyone really enjoyed the burger, French fries, and coleslaw (with a serving of rice on the side). Team Dragons! Thank you! It was yummy! 😀
Unfortunately, I also have some sad news I need to report about the past week…😢
Grade 2 students love living things! Which is amazing, they often talk about the animals they keep at home.
However, this week we had an incident outside our classroom where several animals were kept too long and unfortunately passed away, the animals were kept in small bug boxes in the students' secret bases scattered around our campus. Since then we have had several serious conversations about how we care for animals. For now, we have decided to not take care of pets in our classroom (our Newt and lizards have all been set free) and outside our classroom. We have set a rule that we can look at animals, sometimes pick them up, but immediately release them thereafter.
We are currently learning about living creatures in our Unit🌳✨
While it is extremely sad that this happened, together we will continue to learn how to care for creatures and the ecology of the creatures in class so that the children can treat them with more care.🐸🕷🐞 We would appreciate it if, at home, you can discuss the importance of taking good care of pets and creatures around us.
And finally, to finish on a happy note!
Next week, we will finally have a bus trip for Grade 2 students! Where will they go with their lunch boxes?🚌
See you all in the next Blog!