Good morning everyone!
Here we go, folks! The ISN Sustainable Library crowdfunding has finally started today!!!!!!!!!!!!
Thanks to the support of many ISN book selection partners and the crowdfunding project spread, we have been able to release the page.
This project is filled with children's thoughts and feelings
Please continue to support us and spread the word!
Please check the URL of the crowdfunding page below.
URL: https://readyfor.jp/projects/isn-vb-sustainablelibrary
Thank you very much for your support.
ISNGojo Campus Elementary and Middle School Staff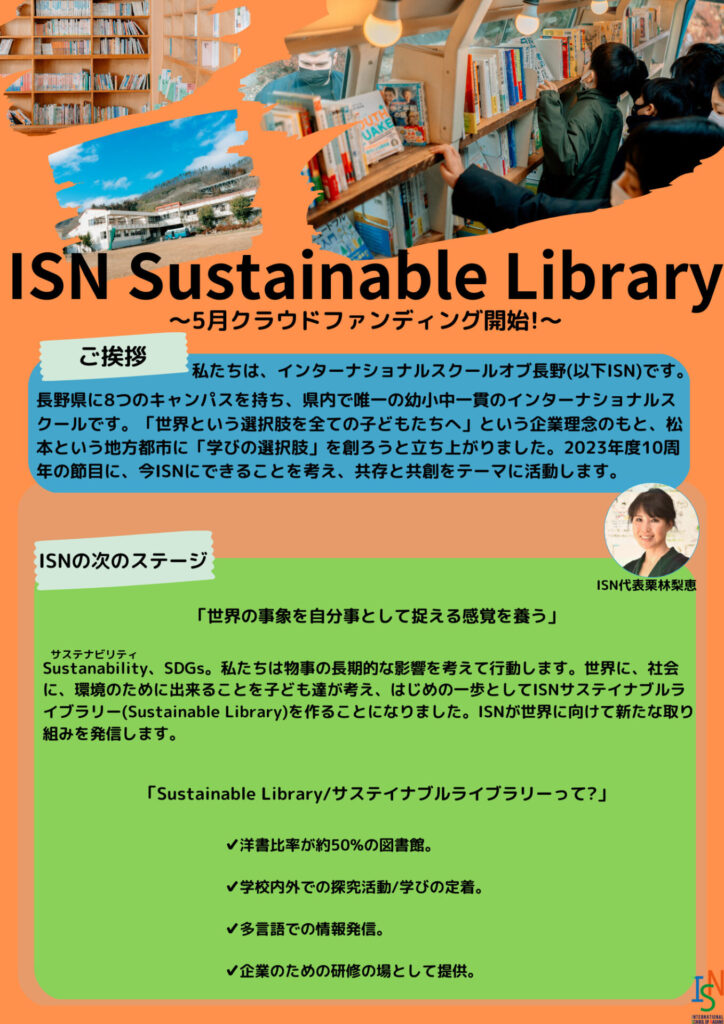 おはようございます。
さあ、皆さん!いよいよ始まりましたISN Sustainable Libraryクラウドファンディング!
沢山のISN選書パートナーの皆さんや、クラウドファンディングプロジェクト拡散にご協力いただきページリリースまでくることができました。
子ども達の思いもたくさん詰まったプロジェクトです。
皆様、引き続きの応援と、拡散をお願い致します!
クラウドファンディングページURLは下記からご確認ください。
URL: https://readyfor.jp/projects/isn-vb-sustainablelibrary
よろしくお願いいたします。
ISN五常キャンパス小・中学部スタッフ一同