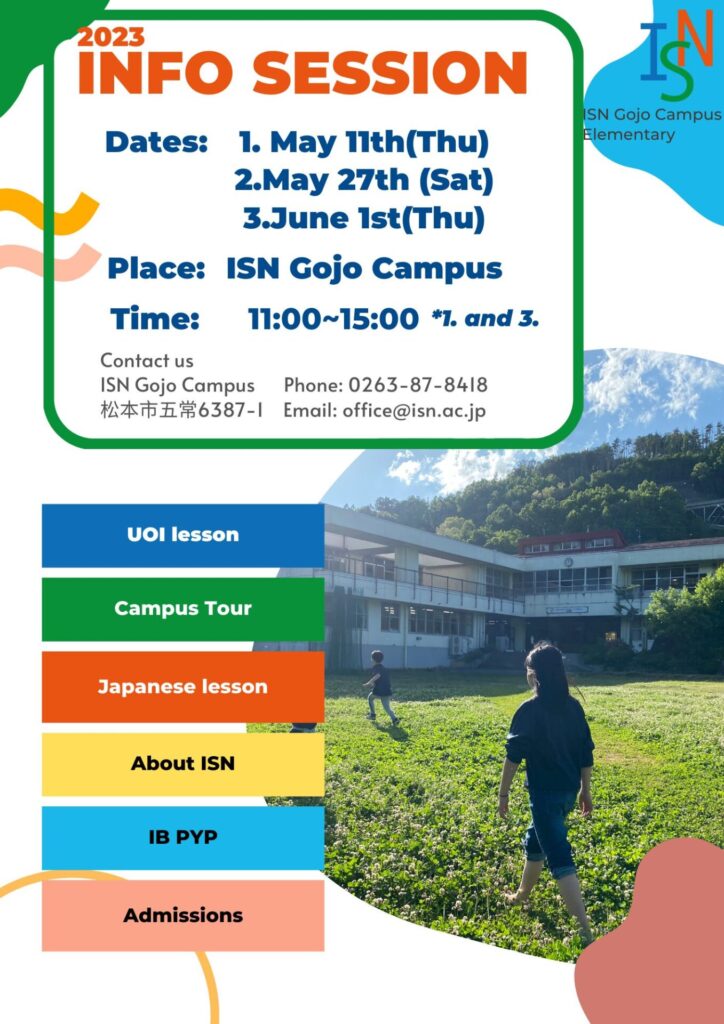 Hello everyone!(英語の後に日本語が続きます🏔)
We are pleased to announce the Gojo Campus School Information Session for the 2023 school year.
*Please refer to the attached poster.
There will be three Gojo Campus School Information Sessions in 2023. (Advance reservations required)
1) Thursday, May 11: Your child will not be able to come.
2) Saturday, May 27: Your child may attend.
3) Thursday, June 1: No children are allowed.
Location: All at Gojo Campus🌱
Time:
1) and 3) : 11:00-15:00 
2) : 10:00-12:00 
Schedule:
ISN shuttle buses will be available for 1) and 3).
Shiga Gymnasium (694 Aida, Matsumoto 〒399-7402)↔ ISN Gojo Campus.

10:50 Departure from Shiga Gymnasium shuttle bus
11:00 Registration at the school
11:15-12:00 Observation of UOI (classes in English)/ All grades are free to visit.
12:00-13:00 Lunch
13:00-13:45 Observation of Japanese classes
13:50-14:50 School Information Session
15:00-15:10 Departure of Gojo Campus Shuttle Bus
Bring: indoor shoes, drink, lunch
Shuttle bus will not operate on 2).Please come directly to Gojo Campus.
10:00 Registration/Children's Drop-off
10:15 – 10:40 Tour of the school (you will not be able to see the children)
10:45 – 11:45 School Briefing
12:00 Child meeting/ briefing session ends
*Children will be taken care of by native English speaking staff and will participate in activities together with the children.
What to bring: Indoor shoes, drink
During the school information session, we will discuss the school as a whole, the IB, what is the UOI (Unit of Inquiry), and have a Q&A time for everyone to ask questions. We will also have time for Q&A from everyone.
To make an appointment, please see the Google form.
https://forms.gle/TGsHD81BZuavujke9
Tel:+81 263-87-8418We
E-mail: office@isn.ac.jp
look forward to seeing you there!
皆さんこんにちは!🌞
2023年度、五常キャンパスのスクール説明会のお知らせです。
*添付ポスターをご参考にご覧ください。
2023年のGojoキャンパススクール説明会は、3回あります。(事前予約制)
1)5月11日(木) お子さまはお越しいただけません。
2)5月27日(土) お子さまもご参加いただけます。
3)6月1日(木) お子さまはお越しいただけません。
場所:いずれも五常キャンパス
時間:
1)と3)は、11:00~15:00 
2)は、10:00~12:00 
スケジュール:
1)と3)はISNシャトルバスが運行します。四賀体育館(〒399-7402
 松本市会田694)↔ISN 五常キャンパス間。
10:50 四賀体育館シャトルバス出発
11:00 スクールにて受付
11:15~12:00 UOI(英語での授業)見学/全学年を自由にご見学頂けます。
12:00~13:00 昼食
13:00~13:45 日本語授業見学
13:50~14:50 スクール説明会
15:00~15:10 五常キャンパスシャトルバス出発
持ち物:室内履き、水分、昼食
2)(土)はシャトルバスが運行しません。五常キャンパスへ直接お越しいただきます。車は校庭左脇へ停めて頂きます。
10:00 受付/お子さまお預かり
10:15~10:40 スクール内ご見学(子ども達の様子はご覧いただけません。)
10:45~11:45 スクール説明会
12:00 お子さま合流/説明会終了
*お子さまは、ネイティブスタッフがお預かりし、一緒にアクティビティを行います。
持ち物:室内履き、水分
スクール説明会では、スクール全体に関してや、IBについて、UOI(Unit of Inquiry)とは?、皆様からのQ&Aの時間などを予定しています。
ご予約は、https://forms.gle/TGsHD81BZuavujke9こちらからお願い致します。
Tel:+81 263-87-8418We
E-mail: office@isn.ac.jp
皆様ぜひ、お越しください!🌈