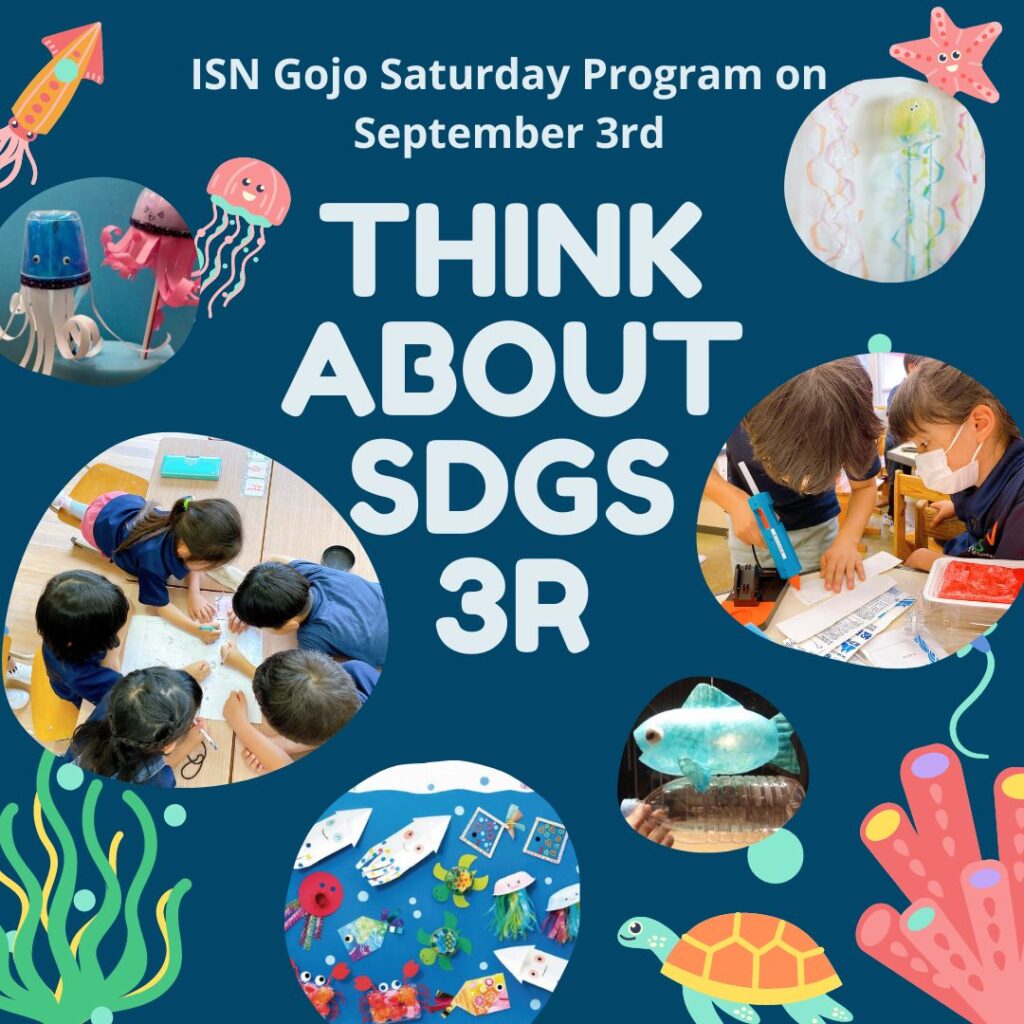 ISNの先生ってどんな人?
1日を通して英語で活動するってどうなんだろう?
Saturday programは、英語が好き、英語に興味があるお子さんなら参加可能!
ただいま、9月3日(土)のサタデープログラム参加者を大募集中です!!
サタデープログラムは、五常キャンパス周辺で1日を英語で過ごすプログラムです
対象:小学1年生~6年生
定員:5名以上で催行
料金:ISNの児童生徒6,000円 外部の方8,000円
時間:Welcome time9:00~10:00
   Pick up time15:45~16:00 ※アクティビティーは10:00からスタートしますので10:00までにお越しください。
送迎:五常キャンパスへ直接送迎
持ち物:着替え一式、手ぬぐいタオル、お弁当、帽子、飲み物
服装:動きやすい服装(野外活動が多いので汚れてもいいものでお願いします)
申し込み締め切り:毎週(木)16:00
9月3日(土)のサタデープログラムは…
「Think about SDGs&3R」
最近よく聞くSDGsってなんだろう、私たちが地球環境のためにすぐ取り組める3Rはどのように始めたらいいの?など、身近なところから始めます
参加者全員でリサイクル廃材を使用し、クラフトの時間で五常水族館を作ります!
作った水族館は、五常キャンパスのエントランスへ飾ります!
参加する皆さんには、以下の持ち物をお願い致します。
・絵具などで汚れても良い服装
・着替え一式
・お弁当
・手拭きタオル
・絵具セット
・食品トレーやゼリー、ティシューボックス、お菓子などの空カップ3-4個
1人で参加するのは少し勇気がいるというお子さんは、お友達や従姉弟、クラブのチームメイトを誘ってぜひ複数で参加してみませんか?!
サタデープログラムは、ISN生でもそうでなくても参加可能!
お申し込みはこちらから↓↓↓
https://forms.gle/gZmkrGXstHkRBsSK8
皆さんのご参加をお待ちしております!
連絡先:Tel 0263-87-8418(五常キャンパスオフィス)※お盆休み中は電話対応ができません
——————————–
What are ISN teachers like?
What is it like to work in English throughout the day?
The Saturday program is open to any child who likes and is interested in English!
Right now, we are looking for participants for the Saturday Program on Saturday, September 3rd!
Saturday Program is a program to spend a day in English around Gojo Campus
.
Eligibility: 1st-6th grade elementary school students
Capacity: 5 or more students
Fee: ISN students 6,000 yen, outsiders 8,000 yen
Time: Welcome time9:00-10:00
   Pick up time15:45-16:00 *Activities start at 10:00, so please arrive by 10:00.
Pick up:Direct pick up from Gojo campus
What to bring: Change of clothes, towel, bento, hat, drink
Clothing: Comfortable clothes (please wear something you don't mind getting dirty as we will be doing a lot of outdoor activities)
Application deadline: every Thursday at 16:00
Saturday Program on Saturday, September 3 is…
"Think about SDGs & 3Rs"
What are the SDGs that we hear so much about these days? How can we start the 3Rs that we can immediately tackle for the global environment? We will start from familiar places
.
All participants will build a Gojo Aquarium using recycled scrap wood!
.
The aquarium will be displayed at the entrance of the Gojo campus!
Please bring the following items to the event.
・Clothes that can be soiled with paint, etc.
・A change of clothes
・Towel for wiping hands
・A set of paints
・Food trays, jellies, tissue boxes, 3-4 empty cups of candy, etc.
If your child would like to perticipate with someone else, why not invite a friend, cousin or club teammate to join!
Saturday Programs are open to all, ISN student or not!
Please sign up from the form below:
https://forms.gle/gZmkrGXstHkRBsSK8
We look forward to seeing you there!
Contact: Tel 0263-87-8418(Office)